(You get a 2fr special tonight!)
Very happily I have been able to stock up on Disney scrapbook supplies and needs and start planning out some special "test" projects to get my ideas out there for my Disney Memory Inspired Products.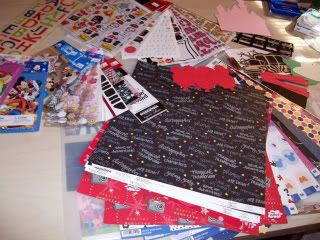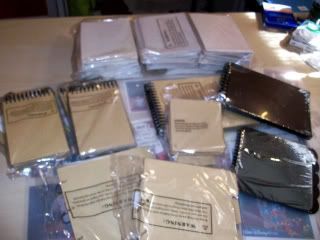 As you may recall as I mentioned in my first BLOG post, that I would love to begin a little home business, sharing my love for Disney and preserving these memories by making books, etc for others....how fun does that sound?!
So I have begun!
My first PROJECT is a

CHILD'S FIRST DISNEY MEMORY BOOK

!
One of my very good friends is going back to WDW next June w/ her two little ones for their first trip. And the idea came to me, a memory book to fill in w/ journal spots and pictures about all the wonderful firsts of going to Walt Disney World.
I will share several pictures below.
Other projects that I have in mind are:
* Mini Autograph Books
*Fill-in Scrapbook Pages
*Custom Memory flip books
*Special Guidebooks for children (thinking in mind of my son Michael who has Autism)
So here is a first look at a future Julie's Mickey Memories Item....ENJOY! (Comments are welcome)
It will be a 5-section tabbed book held together w/ 3 jump rings. There will be a section for each of the 4 parks with 2 additional pages in each section for journal and pictures, plus 1 just for fun section for misc things.
COVER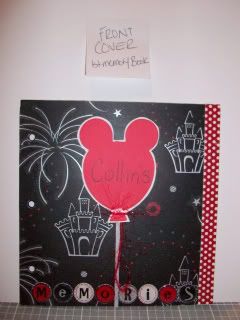 MK TAB
1 of the MK pages (sorry blurry)
Opinion requested!!!! w/ the new Fantasyland Rehab beginning ??? I assume sometime late this yr or beginning of next...do you think the Dumbo ride will still be open in the original location during construction before re-opening in the current Toontown area? I also read that Toontown will be razzed for this expansion but Mickey and Minnie's houses will be moved to the front of the park. My concern is of course I already designed this page and what if when they go, they can't even go or get to these things....huge bummer and flaw in the book then...kwim? thanks
EPCOT TAB
1 of the Epcot pages
I am hoping to finish up the Studios tab and pages and AK this week...can't wait to share some more and then the finished product.
thanks,
Julie