Ok, I am very bad w/ keeping up w/ these Monday updates....
So what exciting stuff has been happening in the Disney Memory-Making World of Julie's Head during last week?
Most of last week was full of doctor and special appointments for my children, so my week was pretty full w/ all of that and my Scrapbooking/Memory-making table was neglected. A few fun moments in the week (October 19-25th) were:
* I had a ladies night-out w/ 4 of my girlfriends we chatted over tea and coffee and very delicious chocolate caramel cheesecake in front of the fire at one ladies house for almost 3 hrs...till her husband arrived home late from a business trip. It was nice to just rest and chat about life, food, our kids, an upcoming couples weekend and God.
* Our weekend was packed as well w/ having that same group of ladies and their families over for our monthly small group. I made a delicious, very fall pumpkin cobbler and festive orange rice krispie treats for the children. On Saturday, my husband helped the twins make mud-bricks for a school assignment (they are studying the ancient Mesopotamian culture) and we baked them in disposable bread pans in our oven...I also made meat loaf that night...no we didn't get them confused. And then later that night, we went to a Scouts event at a local Forest Preserve/Equestian Center for a horse drawn hayride in the dark and a bonfire w/ a marshmallow roast. During our hayride, Michael kept his eyes out for a possible floating pumpkin head and the Headless Horseman....
On Sunday, Aldine sang in the church choir and the twins went to a roller skating party in the afternoon....whew!
At lastly to share today, back in September was my future SIL's birthday and as an on-going email joke about what to get her...purses were not requested by my brother. I was having a conversation w/ my Mom about what should I do for her for her b-day? I was low on funds and didn't know what I could buy her. My Mom suggested I make her something and that is how Paper-Purses came to be....
Who knew huh?
Apparently there are how blogs and sites devoted to making Paper-Purses. Well I found 2 cute patterns from this one BLOG: Mel Stampz
http://melstampz.blogspot.com/2008/03/purse-templates-galore-little-handbag.html
and also from her site I made a mini scrapbook purse that she used the template from bfcraftclub.com designed by Joyce Jensen.
See my pictures below:
The mini scrapbook purse closed: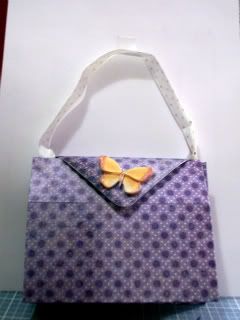 and it opened:
the middle is a 12 x 12 piece of paper cut in thirds then attached together to make one long strip and folded accordion style...it didn't quite turn out as the direction said...so in the future I will modify the instructions on this. As well I added some extra paper pieces inside to cover up the inside folds and make it look a little more presentable.
This is such a clever idea utilizing really 2 pieces of paper and some embellishments....I may try to make a Disney version of it...it would be cute for a little girl, yes?
and here is a very mini purse that I used as a card: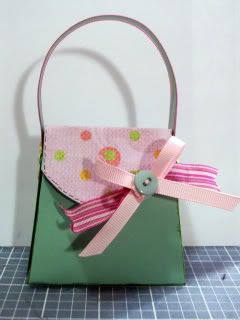 Enjoy....
Julie