A few Saturdays back, my family and I had a special outing that we had been looking forward to for a few months, maybe even longer. I had had heard rumors of two of our family's favorite films were to be re-released in anticipation of a new sequel and then a few months later I saw a blip in my Disney Visa rewards guide it was coming soon!
YAY!
I ripped out the little blip and placed it in my date book for the first week of October...
Toy Story and Toy Story 2

were being re-released from Disney/Pixar together for a limited engagement to be show in 3D! We couldn't wait! We have a special love affair w/ these toys, especially our son Michael. We did not see them when they were originally released to the show, but have fallen in love w/ the characters of Buzz, Woody, Ham, Rex, Jessie and Bullseye. When Michael was around 4 1/2 he got his own room and the theme was Toy Story! My husband and I diligently painted his room a brilliant blue and hand-painted over 50 yellow STARS on the walls as a homage to Andy's Room (in the 2nd movie). Michael had pictures from the movies on the walls, plush characters on his bed, a Buzz Blanket (which he still sleeps w/) and a growing collection of toys and friends from these two movies. Since that room, we moved and he changed his room to a Safari theme w/ a huge mural on the wall, but his love for the Toy Story films lives on!
In our basement there is a special corner w/ his collection:
Buzz Lightyear "dolls", a talking Woody doll, a Mr. Potato Head, Etch n Sketch, Slinky-dog, various figurines, ornaments, cars, etc w/ the Toy Story Characters on them and a collection of Plush characters: Woody, Buzz, Jessie, Bullseye, Ham, Rex, Wheezy, Zurg...
What is it about this fun child's film that keeps our attention, that we watch in the car on just about any road trip, that we planned months in advance to go see again on the big screen?
Magic!
A child's joy!
Laughter and smiles!
The wonder of it all!
So back to that Saturday afternoon....Matt, I, my Mom and the 3 older kids hopped in our van and headed off to the show, w/ our tickets and 3D glasses already in hand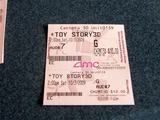 (Matt picked them up earlier in the morning). We arrived a half hour before show time and stood in line for our mini rope-drop...just like Disney huh? Michael even dressed for the occasion w/ his new Toy Story t-shirt from Grandma:
The theatre was opened and off we went:
Grandma bought us some big bags of popcorn to share (we bought her ticket) and we found some great seats! We settled in for our 3 hour long movie fest and got ready to remember, laugh and smile!
After the first show there was a 10 minute intermission and they had a fun trivia reel running inside the theatre: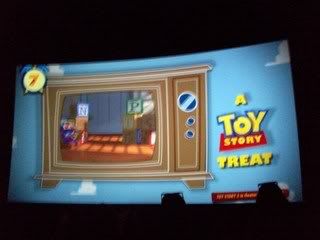 Here are the twins and I awaiting the next show...
After it was over, we enjoyed the blooper reel during the credits then headed home for dinner. Our conversations in the car ride home and over dinner were all about the movies. Our favorite parts, things we liked the best and things we had forgotten about, well mostly me.
I never made the movie to movie connection of Dino-co before between Toy Story and Cars...and I don't think I knew at the end of 1 in the car "Hukuna Matata" was playing. So even after seeing theses movies many time in bits and parts, it was great to find some new magical secrets!
My favorite parts were:
In 1, when Buzz realizes he is not a real Space Ranger and is having tea as Mrs. Nesbit and of course when the toys come alive and freak out Sid. In 2, I love when Zurg tells Buzz he is his father and the blooper reel at the end!
We can't wait till next summer when Toy Story 3 comes out and see what new adventures the toys get into and what new magical memories are waiting!
Julie