in keeping w/ the Recent Toy Story Theme, I thought I would share another JMM creation...
Do you recall how I told you all about Michael's fondness for all things Toy Story? Well that also includes any rides or attractions and characters at WDW that tie in to Toy Story. Buzz Lightyear's Astro Blaster ride in the Magic Kingdom to name one! It turned out to be a pleasant surprise to me, a un-planned delight when I found 2 specific pictures of Michael from his previous two trips to Walt Disney World. I was working on my Pre-Trip Report on the Disboards and posting some pictures of Michael from our '05 and '08 trips and discovered I had a picture of him in front of the statue of Zurg as you come off the Buzz Lightyear ride from both trips...
I had already started a collection of timeline pictures of my children together from each trip and planning for future ones in front of the Animal Kingdom sign and added in front of Mickey's house. Of course, we always take a picture w/ the Big Mouse himself each trip and my husband and I take a picture on the NYC back-drop too...we have 3 pictures from 6 of our trips.
So it was a very nice surprise that I had these 2 pictures and took #3 just this past March. These timeline pictures and memories inspired me to capture these pictures not just w/ all our vacation photos but to create special custom memory books that can be added to for many trips to come.
And why not share this idea in a

Julie's Mickey Memories and More project

...I can take your pictures from several trips or a handful of favorite pictures from a single trip and put together a custom book!
Here is one example:
Michael's Zurg book
Materials to get started (and what luck all the papers and stickers I already had):
One of the inside pages (his picture from 2005):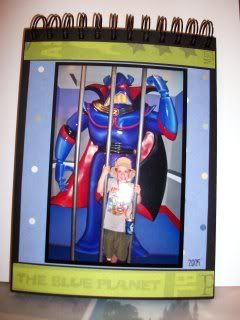 I since added his age and a small sticker to add a little more detail. As well the page proceeding this is a journal space to tell the story behind these pictures and book. Right now it just has the 3 picture pages and he looks mostly the same from the June '08 trip to the March '09 trip...but what fun it will be to add a picture from say a future Disney trip 5 yrs down the road...let's hope he's willing to play along still.
I'm working on the NYC book as I stated before and YES I will post pictures soon.
Julie