I love taking an item and re-purposing it into a treasure like an empty canning jar into a Disney savings bank OR taking a plain cardboard spiral and creating a memory keepsake...
I think it is so fun to take an order item or even plain crafting items to design and create some fun, creative keepsakes. My latest trip into my scrapbook room I finished up some pages in my WDW 3 trip album: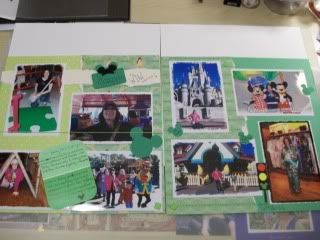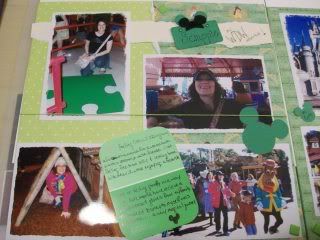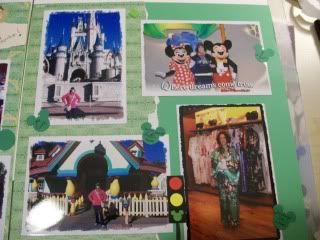 This layout spread was all about me...my first solo trip to WDW w/out my family was full of childlike joy and so many wonderful memories made w/ the ladies I traveled with. Each of us had a special color that represented us as we write about our adventures on the DISboards...mine was obviously green! I had fun mixing and blending different greens and patterns for this layout.

My DIS name is Mouse Scrapper or Scrappie for short...and it was an adventure!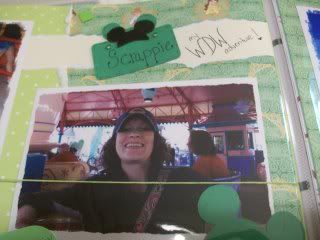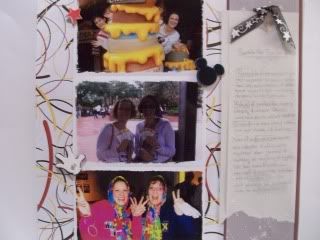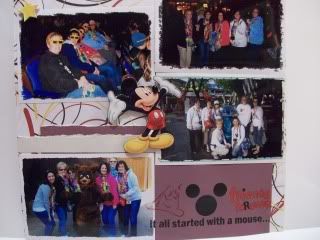 the last layout of the spread includes some of my favorite pictures and memories from the trip...like hanging out w/ my special bud Amy, drinking grey goose slushies w/ the ladies and so much more....
The final addition to the Spectrum Mom's part of this album was to add a 4 x 6 insert page. I included 6 pictures and the stories behind some of the funnier moments of our trip.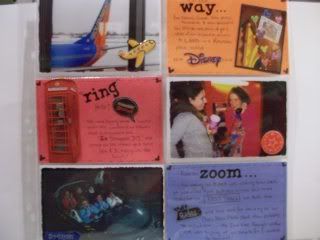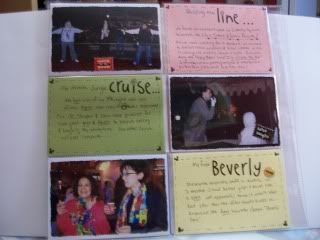 this type of page is a great addition to a scrapbook to add a new element and a quick easy way to add some more pictures!
----------------------------------------------------------------------------------
Now back to my original concept for this post creating something from this:

to that: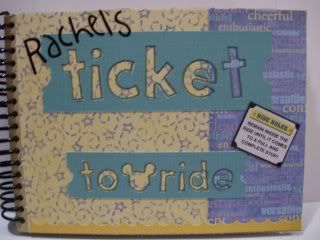 Another one of my Disney timeline series...this book for my middle daughter Rachel and her favorite ride The Peoplemover...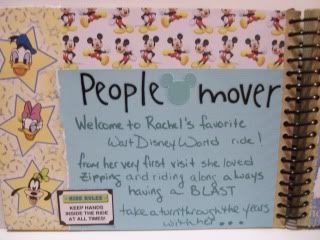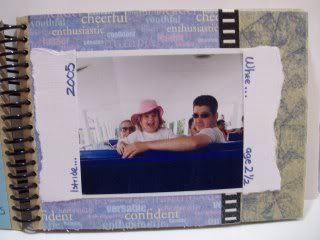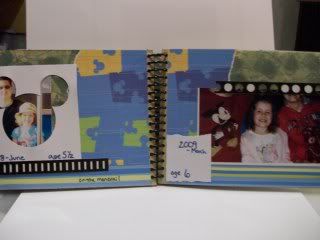 I love these little books. They are so simple to make and create such a lasting memory as you can add a new picture in after each trip!

I now have 5 books total (with one more to create for my youngest daughter) they have been down in my scrapbook room and I wanted something to put them in to keep them together and allow people to look through them all. I found a cute little mesh basket in the dollar bins at Target (in lime green of course) added a tag made from cardboard and here you go: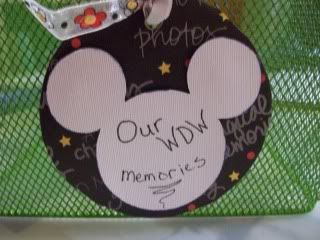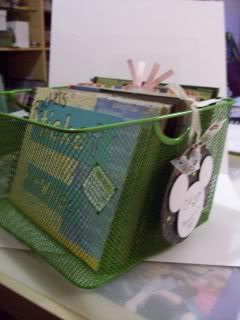 ENJOY :-)

Julie