What is a DIS-tag? you may ask...a great forum of Disney fans who love to chat about their trips, planning, dining, resorts and other items that relate to Disney have come up with a special way to identify themselves and look for other DISers when they travel to the parks.
Lime Green has become the trademark color of the DIS, and your often read about DISers buying things in this color from shoes, shirts to bags and decorating their resort windows or creating their DIS tags with this color :)
I first found the DISboards in 2007 as I was preparing to plan our family's next WDW adventure the following summer...this is when I first learned about the tags and LGMH Lime Green Mickey Heads...ie lime green paint chips in the shape of a Mickey head from The Home Depot...
I was hoping to be spotted as I meandered down Main Street or stood in line while waiting to have fun on a ride, therefore I created my first DIS tag:
a basic version of the LGMH w/ my DIS name mouse scrapper and a few stickers
The following year I found an awesome digitally created version of the classic LGMH and made a new tag for my 2009 trip: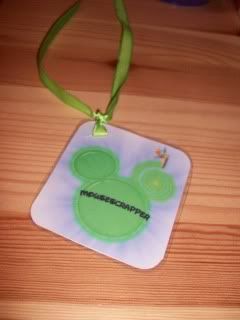 this was the trip when I was asked by a non DISer "what is a mouse crapper?" oh man was i quite embarrassed...that tag was hidden the rest of the trip, sadly...
I revamped the same tag with a space and caps for my DIS name for our 2010 trip:
Then my creativity began to soar as I received a cricut for my Birthday last yr and was preparing to go on a special DISer trip with 7 other ladies and made us custom tags that matched each other: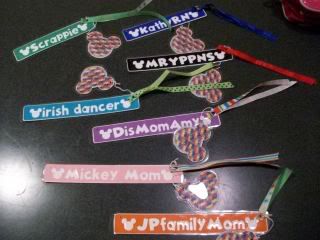 I then adopted my DIS nickname for my tag-Scrappie...
Recently I had a little contest on my Pre Trip Report on the DISboards and sent some prizes to the winners. I included for one of the winners a special DIS-tag creation:
This time I used a cut out circle shape of chip board some lighter Lime green papers and a party ribbon. She loved it!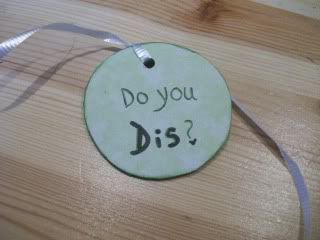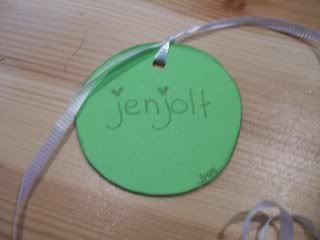 The last DIS-tag in my evolution of DISign is the tag I just created for my special October trip with my husband, Matt and we do Halloween Disney style and celebrate our 15 yr Wedding anniversary...I made him a matching tag to mine just for the fun of it!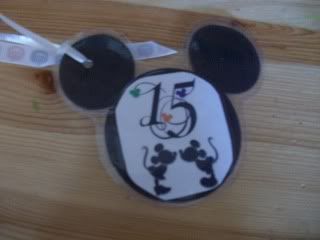 I used a combination of cricut cut Mickey heads, a custom DISign, and some Halloween stickers and ribbons to create a special tag that fits the reasons we are traveling to Disney this time...
I hope you enjoyed this fun post.