editing note...not sure why my size and other edits are not all transferring over...will try and fix again later...
well at least 1 day....I had an amazing surge of creative juices flowing the other day as I finished up and started several projects. It was so great to get downstairs and clean up a few things that found their way into my scrapping room and have some fun semi-non interrupted and non time constricted work done.
I have completed the beginnings of two more Disney timeline books. As you may recall sort of by accident and some on purpose, my husband and I love to take a few pictures of ourselves and our kids together and separately during each WDW trip...it occured to me I should not only take those pictures for fun but showcase them in a special way...hence starting my Time line series....
I'm trying to take the picture at the same location in the Disney parks...but you could use any grouping of pictures from several trips to show your love for Disney (or any travel) and/or how you have changed/grown...
I have "the Zurg years" for my son Nathan, "destination NYC c/o Disney" for my husband and I, and now I have ready to "golden carrousel" for my daughter Bekah and "the ________ kids take on Disney's Animal Kingdom" for the pictures of our kids in front of the Welcome sign outside AK.
Each book is made from a spiral bound chipboard album, covered w/ decorative scrapbooking papers and embellishments...I include one main journal page at the front and then plan to add a new picture after each trip...
Here is a look at the latest two books: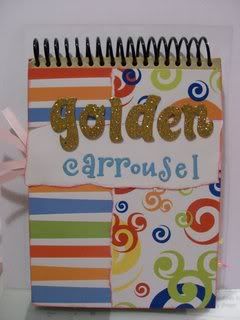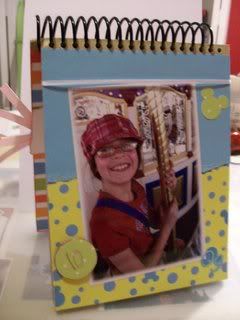 [IMG]http://i232.photobucket.com/albums/ee134/Dizmama5/Julies%20Mickey%20Memories/110_5950.jpg[/IMG]
You can see all the pages done for each book by clicking on the sample album link in the side column....
Other things I created were two more framable layouts of my children...
I did a frame for my daughter Rachel and for my son Nathan (I have Rebekah's already done) I still need to do my youngest daughter and then one for my husband and I then I will hang them up in my scrapbooking room!
this is a fun way to capture each of my children and what I love and admire about each of them at this certain point in their young lives...plus fun to frame a bit of scrapbooking!
take a look: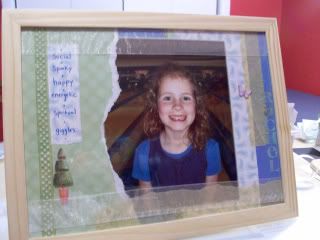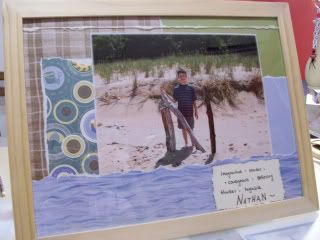 Lastly in my creative splurge was to almost finish a very belated Father's Day gift for my husband a cute little chipboard album on a link chain...showcasing various pictures of him and our children...I just need to print and add a few more recent shots.
It is 8 little pages covered doubled sided in cardstock. I added 1 picture per side w/ the exception of one side I will do a journal/message, as well a small embellishment and a little note like "Disney Dad"...I really hope he likes it.
Take a peek at a few of the pages and once again you can view the whole book in the sample photo album link....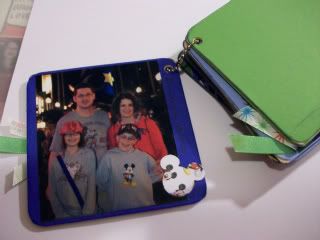 Happy creating....
Julie