Wow I really have neglected my BLOG here...but I have been busy making memories and keepsakes since I last posted last summer. I also have gone on two, yes TWO trips to my happy place WDW since last June as well. One was in November of 2010 to celebrate 2 of my daughters' birthdays Rachel turning 8 and Naomi-Ruth turning 4. It was a really great trip (despite some early mishaps) and we just LOVED seeing all the Holiday lights, decorations and wonderment that Disney does so well. My second trip was just shy of a month ago in January of this year 2011. I went w/ 6 other amazing ladies who not only share my Love for Disney but we all share an even greater bond, we are MOMs of Autistic children. This 4 day adventure was wonderful, it was so great to meet many of them face to face and just have some real fun together.
As to not go back too much and share all the new things I created to help capture the memories of these trips I just want to highlight a couple new things. I have to thank the Disboards and fellow Diser Natalie for her inspiration and creating some really great "disigns" that were the base for several of the special things I created for our November trip.
She made some really nice and vibrant character pages that you could use in autograph books and that is what I did.
As a family we really enjoy stopping to visit the characters in the parks and have meet and greets as they call them. Some of our fondest memories are usually w/ the characters...like the time we just walked into Mickey Mouse (05) or Stitich and Bekah played a trick on me (08) the excitement of meeting about 12 characters at once at the Studios (09) and so many more.
We usually just use the Parks simple autograph book, but for this trip I decided to surprise my 4 children w/ unique and custom autograph books designed for each one of them and the characters they like. Now we didn't feel them up this time, but no worries we know we'll be back...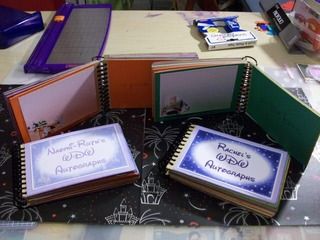 I used a basic chipboard spiral book and covered each page in cardstock. I inked the edges of the pages and then added the character pages on top. The character pages were the space for the actual characters to sign and I left a blank page across form it for us to add a picture later. I also added one other detail of writing a little saying or comment about each character.
It was so fun to see several characters at WDW react to the pages saying "that's me" or "I did say that" or "look I have my own page"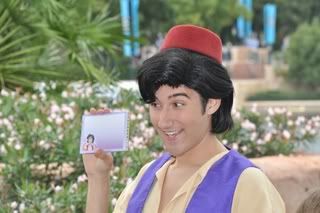 I was really glad I put forth all the effort of making these special books they will be a wonderful keepsake when full of signatures and pictures plus it just added that extra special touch to each meet and greet.
For my January trip I enlisted myself in making two special things for the ladies. We shared a 2 bedroom villa together and like most hotels all the towels are white. The question came up "how do we keep track of who's towel is who's?" I said let me make little clips for them. As we wrote about going on the trip we each pick a color that designated us on the forums we write on (and met through) so that was the starting point...plus anything I make for Disney has to have a little Mickey in it :)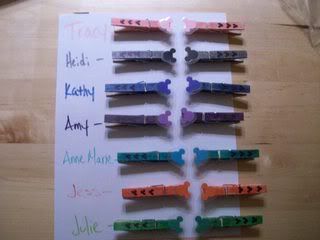 They turned out so cute!
I also said I wanted to make some cool Dis-tags which each of our Diser names on them. On the forums each person has a special username. The name, color, and Mickey plus the puzzle piece all cam in to use and were my inspiration for these tags. Plus for my birthday last year, my parents treated me to a Cricut. I put it to good use!
After figuring out the right size and order of telling the computer how to cut the design, I backed each tag in white. Laminated them and then trimmed, I made the extra puzzle piece tag and attached it w/ string. I punched a hole and used a grommet to hold the ribbon in place for each lady to tie the tag on their bags. It was a fun project and we all looked pretty cool w/ a new matchy tags.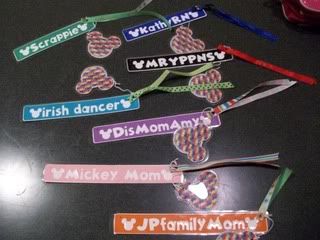 Well I hope you enjoyed this little sneak peek backwards and will stay tuned to read and see the new things I hope to create and make MEMORIES for in 2011.
Julie