Well I did it....

Julie's Mickey Memories and More

proudly

presents

the first fully done Custom

WDW

trip Memory Album.
This is the first main book I designed for a "guest" and sold to use as a sample in future designs and custom

albums

.
It was so much fun to help Diane capture all of the wonderful memories her family shared while they vacationed at

WDW

last yr. They just love the book and have commented on how wonderful it is and what an amazing job I did for them.
The book itself is 12 doubled sided pages in a

pre

-bought chipboard album about 6 X 10. Each page was carefully thought out as the guest and I decided on a theme, design and

overall

layout. She chose her pictures with some guidance from me and

pre

-wrote out all her

journaling

which I then took and made "

Disney

" by using different fonts and colors and printed to size to fit within each layout as needed.
The book took about a total of 8+ hours to complete and my supplies actually ran higher than I first imagined. I used various cut down pieces of Disney inspired 12 x 12 paper,

regular

colored

cardstock

, Disney

embellishments

, stickers, a few brads, ribbons and more. LOTS more of adhesive was used as well vs a more traditional page

protector

covered album to keep everything secure.
I determined an average cost per

piece

of the 12 x 12 paper,

embellishment

cost per page and amount of adhesive used, plus the

total

number of actual paper used to come to my final supply cost w/ the cost of the album.
As this will be used a sample album (my husband took pictures of each page before I

delivered

it) Diane paid me only for my supply cost.
It was so wonderful to go over to their house and watch their expressions and hear their joy as they flipped through each page...I even dressed for the

occasion

and wore a

WDW

shirt. :)
Here are a few sample pages to look at w/ some comments of how I

went

about designing the page/

layout

and added special touches. To see the whole album click on the

photobucket

link in the left sidebar:

JMM

sample albums.
I hope you enjoy looking at these few pages as much as I enjoyed making this book!
Julie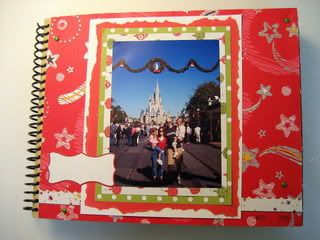 The cover: I captured the focal picture from the trip and the holiday decoration in this picture by using a layered "frame" technique w/ holiday inspired paper, plus I left the title sticker blank for the guest to

hand write

it in herself
For the first layout it included a main journal page the guest

pre

-wrote highlighting their family trip and I asked the guest to find a special picture that captured their

overall

memories to use in the intro layout. I designed the whole layout w/ the colors of Mickey & Minnie in mind and even the yellow in the 1 daughter's sweater.
Magic Kingdom layout: I captured the colors of the castle from night and day using purple and blue papers, inked edges and a

sparkling

string to add that extra touch.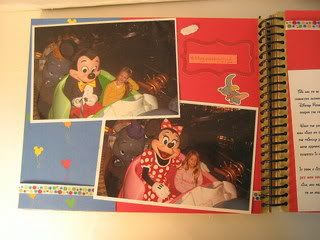 Nighttime Flight w/ Mickey: this was a special highlight memory for the family being chosen to ride w/ the Big Cheese Himself on Dumbo during an

EMH

at the MK one night. The whole layout is

designed

to focus on these great pictures and I left a title space blank once again for the guest to

hand write

it in.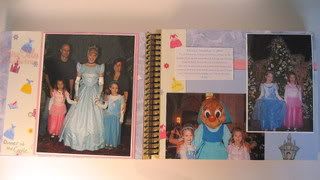 A Princess Dinner layout: I used the guest's gift photo to highlight this event of their trip and many different papers to coordinate w/ a princess theme and colors.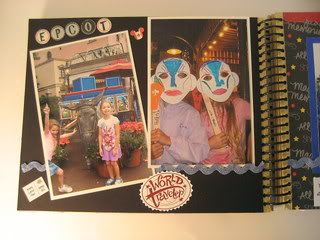 Part of a fun Epcot layout: I used fun stickers to capture the enjoyment they had in the World Showcase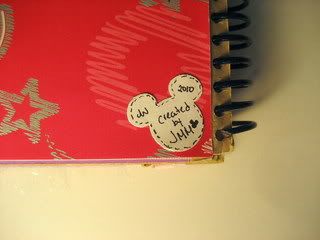 The back cover showing off my

JMM

handmade "logo"