Wow it is a beautiful 70+ degrees outside in Chicagoland...hard to believe after a chilly & wet month of March.
Time to check in!
My scrapbook room has remained busy over the last month and sorry I have not had the opportunity to post any projects I had been working on...but lots to come in the months ahead. March kept me busy w/ get-togethers and various "to-do's" involving my Brother's Wedding on the 13th. It was a wonderful occasion full of family, friends, love and laughter!
Here is a picture of myself w/ my parents and siblings
I don't have pictures of my crafty endeavors from last month as they were personal gifts. However I turned a plain chipboard spiral (3 x 5) album into a "LOVE" album for my brother and his new wife as a present.
I filled the pages w/ quotes, scripture and other words of Love and Marriage. I left a few spaces for them to write in their vows and add a couple pictures. I also included a personal message from me.
I stayed in the theme and colors of their wedding using greens, purples and silvers plus I cut up a portion from the wedding invite and used that as well.
It turned out so great!
My brother also asked me to help make a special card from him to her showcasing the gifts he was giving her. He picked out the design, colors and other accents. It was a joy to make and create this special card (she loved it and thanked me too)
On the Disney side of crafting and scrapbooking I am working hard on finishing up my first "sale" (sample) album for a family who went to Disney last yr over Thanksgiving Break. It has been such fun sitting down w/ her and designing this book and now working on it too.
The book is almost done and I will showcase it as one of my Sample Albums. Pictures will be up soon.
While I have been working on this book over the past week (my children's Spring Break from school), my daughter Mae has joined me in creating her own little Disney scrapbook.
This little album I had purchased back at the end of our 2008 trip to WDW (1 for each of the twins too) and we just never had put anything in it. I already had printed off pictures from our 08 trip, but we decided to split the book by 3 and put in 8 pictures from 08, 09 and save space for 8 new pictures from our upcoming trip in Nov. of this yr.
She decided on her favorite pictures and what order she wanted each set to go and started working. It was fun to have a little partner down in my room while I worked.
Her she is w/ her book and 1 other set of pages from 2008: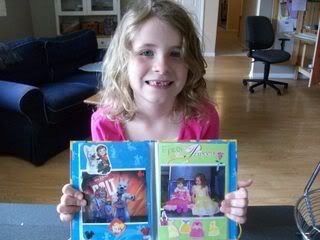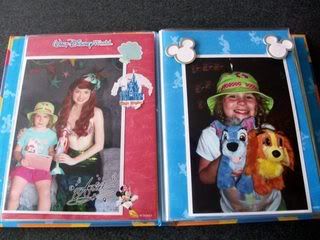 Cute huh?
Now taking a look back at my March to do list...unfortunately I am still behind. With adding in a couple different projects and starting later than anticipated on Diane's Disney album...things have slipped away w/ other busy what not's.
Even so by my tally I scrapped approximately to the equivalent of 17 12 x 12 pages.
April I am hoping to get back on track!
To Do:
*Finish Diane's Book
*Finish Michael's scrapbook album (age 6)
*Start Mae's scrapbook album (age 3)
*Do two wall frames
*Custom orders if any...
Be back w/ pictures of the Sample Album real soon.
Happy Spring (and Easter) and Happy Creating Wonderful Things!
Julie