YAY for me...
I have accomplished one of my January Scrapping Goals and this is for JMM's too! I have hinted to this book for awhile now and it has sat on my scrapbook desk for months waiting to be completed...(there actually is one more thing to do, but it's close).
One of my JMM's Projects are my Custom Mini Books. I love the idea of a mini keepsake book to just showcase a few key photos and special memories. For most people you look at pictures or organize pictures not just to look at now but to remember in the future and how often do we look back at precious photos and memories and remark at how we have changed (or not) and how we or more specific our children have grown...
this inspired me in one of the Custom Mini Books I'd like to create:
Time-Line books
I currently have 2 books in the works, one which I shared last yr of my son Michael and his pictures in front of Zurg outside the exit line at the Buzz Lightyear Astro Blaster Attraction at WDW.
the other book is my

NYC backdrop book...
Every trip that my husband and I have taken to WDW together has included a photo stop at the NYC backdrop in Disney's Hollywood Studios...
I unfortunately don't have backdrop photos to include in this book from our first 3 trips (1994, 95, 98) but am glad I can start this now and continue to add to it for many more trips.
We laugh at how DH wore the same shirt to DHS two yrs in a row and can remember how hot the 2008 trip was just by looking at a photo.
Please enjoy this latest Julie's Mickey Memories Creation:
NYC c/o the Mouse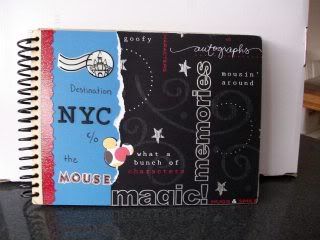 the inside pages: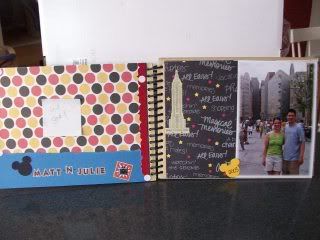 as you can see on the above page...I still have to add a text story to tell about the theme of the book (I'll share it later)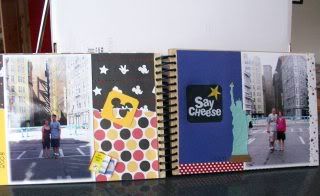 Before I close out this post I'd like to share one other fun "scrap-booking" project I did as well last week. My brother is getting married in March of this year and his future wife is an avid scrapbooker like me, so it seemed most fitting for me to design and give them two custom scrapbooking gifts. I opted to make frame-able scrapbook pages for them to fill in w/ pictures later: 1 for their honeymoon which will be in Hawaii and 1 for their actual Wedding day.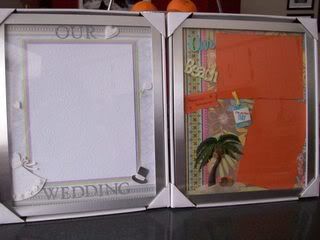 she really loved them, and several of her friends were impressed and thought they were so nice...it took no time really and it was so fun to make these for them. I can't wait to see the pictures in them soon.
Hope you find something creative to do this week and make someone smile!
J~